3 ways thermostatic mixing valve with male connection
Art. 652
3 ways thermostatic mixing valve with male connection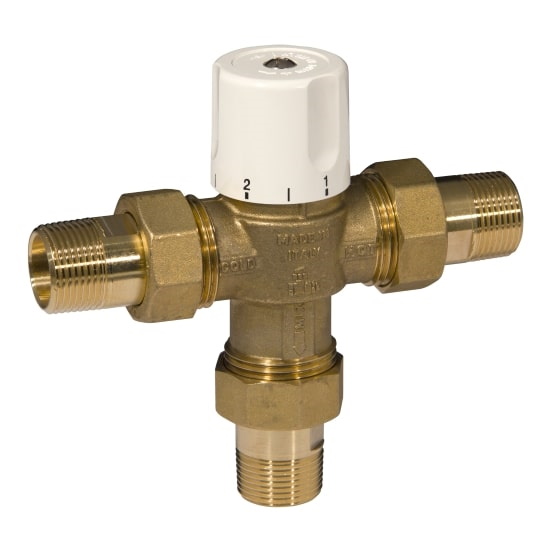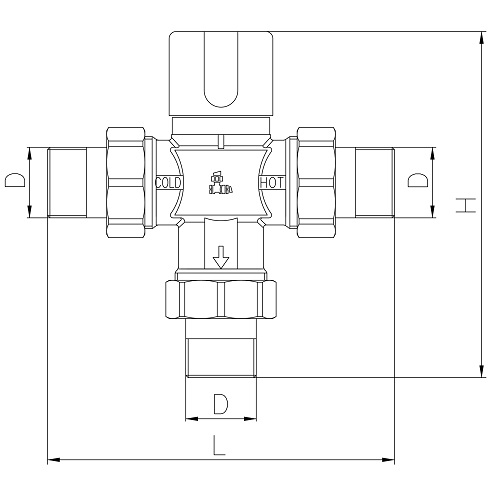 Legend

CW510L - low lead
CW602N - DZR

solar
Items
| | | | | | |
| --- | --- | --- | --- | --- | --- |
| Code | Size (D) | Smooth | Pack | H | L |
| 6520N00500 | 3/4" | | 1 | 138 | 135.0 |
| 6520N00600 | 1" | | 1 | 146 | 153.0 |
* the last letter of the code indicates the type and color of the handle
Smooth
Yellow

Chrome

Nickel

White
Aluminum handle
F Red
E Blue
G Yellow
M Black
Iron handle
A Red
D Blue
B Yellow
N Black
Minimum working pressure: 2 bar
Maximum working pressure: 10 bar
Minimum cold inlet temperature: 4°C
Maximum hot inlet temperature: 85°C (solare/solar: 110°C)
Mixed outlet temperature: 35°C-55°C
Threads: ISO 228
Allowed fl uids: water (Glycole max percentage: 50%)
This valve was not designed for installations exposed to subfreezing conditions; use
suitable insulation if this possibility exists in your installation. Subjecting the TMV to heat during installation may damage the valve internals. The Webstone
TMV is designed for use in water systems only.